100 degrees today up on the rim trail!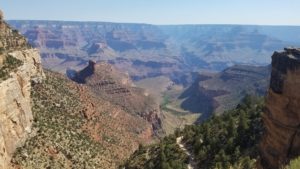 We started the day at the bright angel trail head. Our first trail hike that lead us down to towards the canyon floor and Colorado river.  The first rest spot is 1.5 miles down, i think we made it half way there and turned back which was a good idea considering the conditions.
From there we caught the red line shuttle to Hermit's Rest with a quick stop at the Abyss, a 3000 ft drop off! Steep!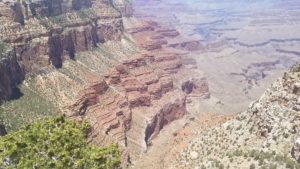 After a quick snack at Hermit's rest we walked 1.1 miles to Pima point, a long hot walk, but an easy one… we had just enough water.